Rhodamine B-PEG-amine,RB-PEG-NH2
Amine (polyethylene glycol) Rhodamine B
Synonym: Amino PEG Rhodamine B, Rhodamine B PEG amine, Rhodamine B- PEG-NH2
Product Structure: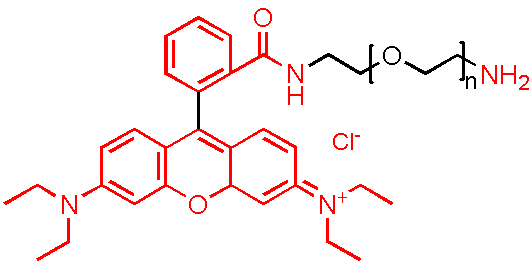 Product Specifications:
l Catalog Numbers:PS2-NRB-1K,2K,3.4K,5K,10K.
l Appearance: Pink/dark red solid.
l Solubility: 5 mg/mL, in chloroform,DMSO.
l Stability: 1 Years at-20°C, Desiccate. Protect from light.
l Ex/Em wavelength: 544 nm/576 nm.
l Molecular Weight(PEG): 1K,2K,3.4K,5K,10K.
l Reactive group: Amine (-NH2).
Description:
RB-PEG-NH2 is one of Ponsure heterobifunctional red fluorescent PEG dye that contains a terminal rhodamine B dye and a primary amine group on each PEG terminus. Rhodamine B is a bright red fluorescent dye with excitation/emission wavelength at around ~544 nm/~576 nm. Amine functionalized Rhodamine PEG can be used to react with other molecules containing amine reactive groups such as NHS, COOH, etc. PEG linker bridged Rhoamine and amine group offers better water solubility, flexible linker structure and enhanced stability. Compared to other organic dyes.
Handling and Use:
RB-PEG-NH2 is sensitive to light and temperature. For best use, material should always be kept in low temperature in dry condition. Protect from light.
Avoid frequent thaw and freezing. For more information about using this product, visit www.ponsure.com.
Storage Conditions:
RB-PEG-NH2 should be stored at -20℃. Desiccate. Protect from light. Materials may be handled under inert gas for best stability.
References:
l Multifunctional luminescent immuno-magnetic nanoparticles: toward fast, efficient, cell-friendly capture and recovery of circulating tumor cells------ Journal of Materials Chemistry B (IF=4.776)
Related Products:
BIOTIN-PEG-NH2, DSPE-PEG-NH2
NH2-PEG-SH ,FA-PEG-NH2
FITC-PEG-NH2,LA-PEG-NH2
This product is for research use only and is not intended for use in humans or for diagnostic use.