Cyanine5-PEG-Thiol,CY5-PEG-SH
商品型号:PS2-SC5-1K,2K,3.4K,5K,10K
英文简称:Cyanine5 (polyethylene glycol) Thiol
分子量:1K,2K,3.4K,5K,10K
规格:20mg,40mg
提示:In stock(2K)
咨询热线:
在线咨询
Cyanine5-PEG-Thiol,CY5-PEG-SH
Cyanine5 (polyethylene glycol) Thiol
Synonym: Cyanine5 PEG thiol, thiolated PEG Cyanine5, HS PEG Cyanine5
Product Structure: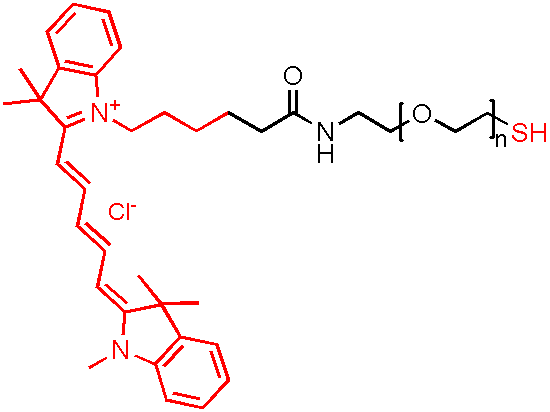 Product Specifications:
l Catalog Numbers:PS2-SC5-1K,2K,3.4K,5K,10K.
l Appearance: Blue/dark blue solid solid,semi-solid.
l Solubility: chloroform, DMSO.
l Stability:1 Years at-20°C, Desiccate.
l Molecular Weight(PEG):1K,2K,3.4K,5K,10K.
l Reactive group:SH
l Ex/Em wavelength: 650 nm/670 nm.
Handling and Use:
CY5-PEG-SH is sensitive to light and temperature. For best use, material should always be kept in low temperature in dry condition.
Avoid frequent thaw and freezing. For more information about using this product, visit www.ponsure.com.
Storage Conditions:
CY5-PEG-SH should be stored at -20℃. Desiccate. Protect from light. Materials may be handled under inert gas for best stability.
Related Products:
BIOTIN-PEG-SH, DSPE-PEG-SH
NH2-PEG-SH ,FA-PEG-SH
HS-PEG-NHS,N3-PEG-SH
This product is for research use only and is not intended for use in humans or for diagnostic use.